Dashcam model reviews
NOTE - These reviews are out of date!: All of these reviews were posted during or prior to 2015. Dashcams are just like computers, tablets and phones: the technology is rapidly evolving. New models are being introduced constantly. Pricing, video resolution and features with dashcams are changing too fast for this section to keep up. For up-to-date information and reviews of current dashcam models, visit the Dashcam Talk website.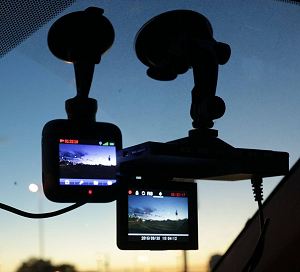 Keep reading, or click to jump directly to a review:

Models marked with (**) are out of production, but can occasionally be found on online auction sites.

About the reviews: I'm a longtime dashcam user, but I didn't start this page to be a comprehensive source of reviews. Nonetheless, I will give a fair and honest evaluation of models I buy and ones that are sent to me. (I will always disclose plainly on this page if a camera was sent to me by a manufacturer/retailer.) For a more thorough set of reviews, I highly recommend the Dashcam Talk website and the Techmoan Youtube channel, both of which have hands-on reviews of many dashcam models. There are also many user-supplied videos on Youtube from just about any model, so you can view actual picture quality in both day and night use. I also have some sample videos from my dashcams in a variety of lighting conditions - check my comparisons page.

Up until recently, dashcams were a hit-and-miss field with primarily overseas sellers. Now that US dashcam sellers are more common, I feel it is better to buy domestic (from a company that includes a warranty and easy return policy). It is true that you can save a considerable amount of money - sometimes up to half the price a US equivalent model - by ordering directly from an overseas manufacturer (for dashcams, that is primarily in China and Taiwan). However, your recourse in such cases is limited when things go wrong. In reading many forum threads and reviews, I see that it is not uncommon for a cheaper overseas-sourced dashcam to fail after a few months of use (particularly with the much-talked-about G1W, which I have NOT used as of yet for that reason). Counterfeits are also not uncommon from overseas sellers. If you bought your failed dashcam from China, you're either out that money or facing a very long return shipping process.

I think of it this way: you can buy virtually any type of electronic device (most of which are made overseas anyway) from offshore sources at a considerable savings. That includes TVs, stereos, laptops, cell phones, tablets, etc. I personally feel that the peace of mind in buying from a domestic source is worth the extra money in any case. A reputable domestic seller offers quality control and problem remediation that you don't typically get with offshore sellers, and it's reasonable for that to increase the cost. That said, I don't fault anyone for taking the risk with an offshore seller in order to save money. It's a personal choice you have to make for yourself.

Having said all of that, here I'll detail the models I've used and my experiences with each (in no particular order).
Garmin Dash Cam 20
I purchased this unit (click for larger picture) for $179 (it was on sale at Best Buy) in September 2015. This was an "emergency" purchase to replace my failed Aiptex X3. As of October 2015, most Best Buy stores have this model in stock (as well as several other dashcam models/brands).

Here is a screen capture from the Dash Cam 20 (this is the same view as the Windshield Witness' sample frame in the next review):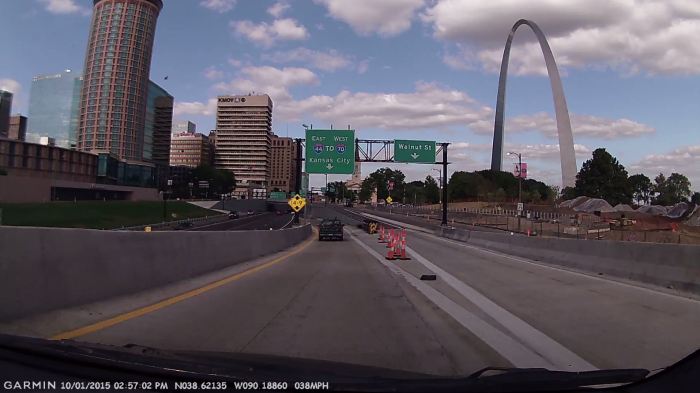 Click for full size
Here is my list of pros/cons of the Garmin Dash Cam 20:

PRO: Build quality is very good.

PRO: Powered shutdown allows for one, two or five minutes of recording after power is lost, a nice feature.

PRO: Video quality is a step up from the Aiptek X1/X3.

PRO: With Garmin's player, you can view your GPS position on a map as you play back the video files:



PRO: The lens on the Garmin is wider than my previous Aipteks. Though I can't find any documentation on the lens viewing angle, my best guess is between 130 and 140 degrees.

CON: The Garmin has already had one instance of heat-induced shutoff after the vehicle was parked in the sun for about 45 minutes. This is completely unacceptable for any dashcam and extremely disappointing for a name-brand model.

CON: The AVI video files will not import natively into Adobe Premiere Pro, they require conversion to mp4. This conversion sometimes causes 1 to 3 frames to be dropped at the end of each clip, which creates a tiny gap in between files should the need for connected files arise.

CON: The Garmin uses a proprietary ball-joint mount (pictured at right).

CON: The camera does not support memory cards larger than 32GB.

CON: The picture is considerably darker than I would like, and the dynamic range of the camera sensor is limited. Near sunset, the sky is often completely washed out in order for the road/ground to expose correctly (see frame capture below).

This problem means the Garmin is not suitable for storm chasing use - where the sky needs to be exposed properly as well as the ground.


CON:There is a very loud half-second long audio artifact in the middle of each video file. The artifact clips the volume at the upper end. This is not a huge issue unless something is captured on video at that exact moment.

CON: The GPS/speed/time stamp overlay cannot be turned off on the recorded video. This is more of a personal annoyance for me, as I prefer my dashcams to record clean video that can be used in television and Youtube productions.

CON:The power cord is too short. It is only long enough to drop the cable straight down from the camera to plug into a dashboard or center console cigarette lighter outlet. There is no extra cable length for neatly running the wire around the windshield. My power connections are in the back of the car, so I had to purchase an extension cable in order to be able to plug in the camera.

CON:The MiniUSB power connector is proprietary. The camera will not operate with any other standard MiniUSB power adapter. This meant I could not use the previously-installed power cord from the Aipteks, even though it was also MiniUSB - I had to go through the annoying task of running a power cable all over again.

Personal conclusions: Although the Garmin Dash Cam 20 is built well and does what a dashcam is supposed to do, I am fairly disappointed with it overall. The heat-induced shutoff, picture darkness, low dynamic range, inability to turn off the timestamps, files that need converting before Premiere import and the occasional dropped frames in converted clips don't sit well with me. Since my dashcams may at any time be called upon for broadcast-quality TV and Youtube projects, I will be soon looking to sell the Garmin Dash Cam 20 and replace it with something that better suits my needs.
Sample Video clips
To see still frame comparisons from the Garmin Dash Cam 20, view the comparison images page.
Windshield Witness
The Windshield Witness ($179.58 with an 8GB memory card) is a 1080p loop-recording dashcam (click for larger picture). The US-based company that sells this unit sent me one to review in October of 2015. During the review period, I had it mounted next to my Garmin Dash Cam 20 for comparison purposes. I currently have the Windshield Witness mounted as a driver's side-facing camera.

The Windshield Witness is popular with RV owners, but is appropriate for any type of vehicle. The company sells a second mounting/power kit ($29.58 extra) to allow the camera unit to be easily transferred from an RV to a daily driver car. The kit came with three different types of mounts including suction cup, visor clip and a permanent screw-mount base. The camera's lens view is 145 degrees, slightly wider than the Garmin Dash Cam 20 (see the comparison images.)

Here is a screen capture from the Windshield Witness (this is the same view as the Garmin Dash Cam 20's sample frame above):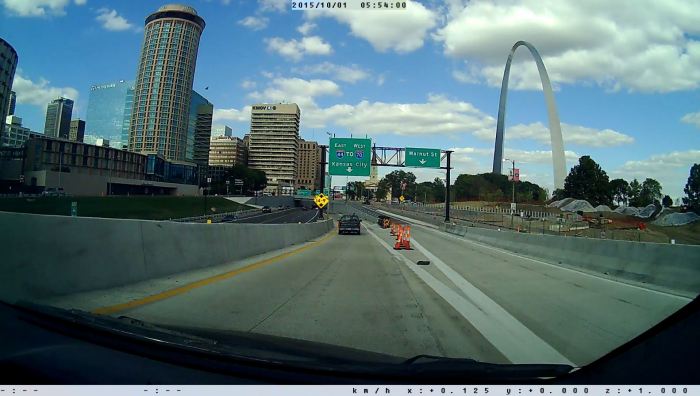 Click for full size
Here is my list of pros/cons of the Windshield Witness:

PRO: Build quality is good.

PRO: The camera has between-file-gap insurance by recording a slight overlap from one file to the next. You can set the length of this overlap in the options menu.

PRO: Dynamic range and overall image clarity is better than the Garmin Dash Cam 20 (see the comparison images).

PRO: The LCD screen can be swiveled on a vertical axis for easier viewing from the side.

PRO: The unit uses a standard tripod mounting nut (see image at right), meaning you can use any type of film/camera mount as well as building your own using a 1/4" bolt.

PRO: The optional Transfer Kit comes with three different mounts: suction cup, permanent screw-mount base and a sun visor clip. The suction cup mount is rigid and operates as it should (pictured at right).

PRO: The MP4 video files were readable natively in Adobe Premiere Pro with no need to convert the files beforehand.

CON: When the exposed sun is located just off of the top of the screen, the camera sensor glitches out with a big vertical green or purple line/smear all the way down the frame. I only encountered this problem when the sun was at just the right spot, so this will only occur at certain time of day if you are driving into the sun. The glitch is not present when the sun is in the camera's view.



CON: The white balance of the video image is off slightly (pure white objects have a faint yellowish hue).

CON: The sun visor clip (if you choose to use it instead of the normal suction cup mount) is not very rigid and allows the camera to wobble. Since the visor clip is intended to be used only in locales where mounting the camera directly to the windshield is illegal, this should be a non-issue for most drivers.

Personal conclusions: Overall, I like the Windshield Witness' brighter and higher-dynamic-range picture much better over the darker and flatter picture of the Garmin Dash Cam 20. Since my dashcam footage is sometimes used for TV and Youtube productions, the sun-just-out-of-frame glitch gives me pause in using this as my main front-facing camera.
Sample Video clips
To see still frame comparisons from the Windshield Witness, view the comparison images page.
Street Guardian SG9665GC
The Street Guardian SG9665GC ($199 with a 32GB memory card included) is a 1080p loop-recording dashcam with GPS. This is one of the highest-rated cameras on the dashcamtalk.com web site and forum, so I decided to purchase one in October 2015 as a potential front camera replacement for the Garmin Dash Cam 20. As I mentioned above, the Garmin has sky overexposure issues and is therefore not well suited for storm chasing, at least not in the "#1 slot" as the main front-facing camera. During the review period, I had the Street Guardian mounted next to my Garmin Dash Cam 20 for comparison purposes.

The Street Guardian looks and mounts differently from most dashcams. Its compact size and "wedge" shaped body is small enough to tuck in behind the rear view mirror. Unlike the typical suction cup dashcam mount, the Street Guardian uses an adhesive-affixed clip. The GPS receiver is a separate wired unit (a "puck" similar to ones storm chasers commonly employ) that plugs into the camera.

Here is a screen capture from the Street Guardian (this is the same view as the sample frames shown above in the other reviews):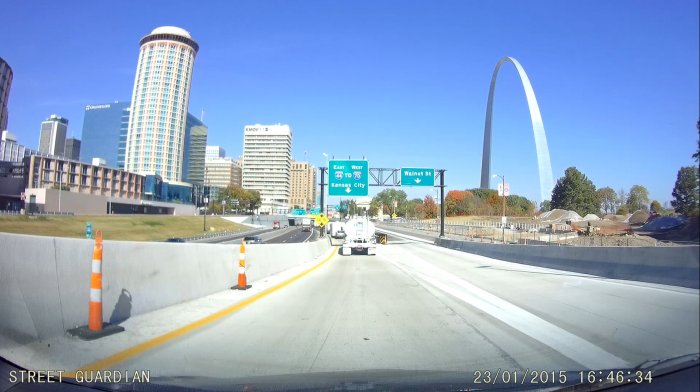 Click for full size
After a couple of months with the Street Guardian, I've concluded that this camera mostly lives up to the good reviews. It produces the best picture of any model I've used, and the form factor is the least obtrusive of any of my other cameras. It's not without issues, however. Here's my list of pros and cons for the camera:

PRO: Build quality is good.

PRO: The camera produces a very good picture, with better clarity and dynamic range overall than any other dashcam I've used.

PRO: The unobtrusive form factor makes the camera less noticeable.

PRO: Sound quality is very good.

PRO: The camera's power-off function is capacitor-based rather than using a battery, which in theory should vastly improve long-term heat resistance.

PRO: The menu is comprehensive, giving the user a lot of control over the various features. For example, I was able to turn off the timestamps for a clean video image, a big plus for storm chasing use.

PRO: The GPS functionality is completely optional - you don't even have to plug the receiver into the camera if you don't need/want that function.

CON: The Street Guardians have an issue with hot pixels visible during nighttime footage, a problem which the company acknowledges. The hot pixels may appear as static, flickering, or both. The problem's severity varies from camera to camera. Most of these can be fixed with an in-camera calibration procedure that the company gives out (not publicly, but only to users who report the issue). Essentially, the calibration function involves covering the lens completely, then initiating a "secret" developer menu operation that "masks out" any pixels that are not completely black. On my cameras, this calibration function satisfactorily repaired the static hot pixels.

The calibration function, however, does not fix the flickering hot pixel problem. On one of my Street Guardians, the issue becomes rather noticeable in certain scenes where both bright lights and dark sky coexist in the frame. Here is an animated GIF of a 100% cropped section of a video showing the flickering hot pixel issue at its worst on one of my Street Guardians:


Street Guardian SG9665GC flickering hot pixels



CON: While the camera's lens can always be tilted up and down, the adhesive mount prevents some post-installation position adjustments. If you happen to not get the horizon perfectly level on your first try, you can't correct it afterward.

CON: This camera picks up a greater degree of dashboard reflections in bright sunlight than any other dashcam I've used. I don't believe this is the camera/lens itself, but rather a result of its position closer to the glass than my suction cup mounted cameras. I installed a flat-black dashboard cover as a remedy, which satisfactorily eliminated most of the reflection problem.

CON: The camera's only exposure issue happens when driving directly into the sun. In those conditions, all or part of the sky tends to blow out:



CON: I had to install Quicktime to be able to import the camera's MOV files natively into Adobe Premiere Pro.

Personal conclusions: Despite a few minor annoyances (no camera is completely free of those), the Street Guardian lives up to its good reviews. All indications are that this will be a suitable storm chasing dashcam, as the driving-into-the-sun issue is rarely a problem on a chase. The camera performs well enough that I ordered a second one to replace the now-failing Aiptek X1 as my rear-facing camera.
Sample Video clips
comparison images page.
Aiptek X1 Car Camera
This 1080p camera served as my front dashcam from 2012 to 2013. I moved it to the rear-facing position after purchasing the Aiptek X3 (next in this list), where it served until it failed in October of 2015. The daytime image quality of the X1 is very good, but nighttime image quality is lacking. It has been a generally reliable camera, surviving extreme hot and cold, shocks, and even a window blowout during the El Reno, Oklahoma tornado - in which it was blasted with glass/debris and caked with mud. With a 32GB SD card, the X1 loop-records roughly 7 hours of video in full 1080p with no gaps in between files.

I had no problems with the X1 until May of 2015, when the powered shutdown function stopped working. This is the function that saves the current video file when the camera loses power or is turned off (as it would likely do during an accident). When the camera was diconnected from power, it immediately turned off, corrupting the current video file that is sometimes not recoverable. The files I had been able to recover during tests were been missing at least the last 30 seconds. For this reason, I considered the camera 'down', in the sense that its view is useless if I'm involved in an accident where the car's battery connection is jarred loose (or the camera itself is knocked from its mount and becomes unplugged).

In September of 2015, the camera began periodically glitching out, either freezing completely or the picture on the screen flickering and/or turning to a deep red/purple hue. The problem eventually worsened to the point of the camera no longer being dependable. As a result, I retired the X1 in October of 2015 after over 3 years of service, replacing it with a Street Guardian.

Here is my pros/cons list for the Apitek X1:
PRO: Build quality is good.

PRO: Daytime image quality is very good

PRO: The camera survived a tornado strike and window blowout, and operated without problems for a little over 3 years.

PRO: No heat-related shutdown issues, even during extended operation in a parked, hot car.

CON: The video files cannot be read natively by Adobe Premiere Pro, and must be converted/re-encapsulated using VLC.

CON: Night/low light image quality is subpar.

CON: The mount is proprietary.

Personal conclusions: The Aipteks earned very high marks from me until they both developed the powered shutdown problem. How bad this that, though? I do not know what the typical lifespan of a dashcam should be. After all, they do run continuously and must survive constant vibration, direct sunlight as well as temperature and humidity extremes. The X1 performed flawlessly for over 3 years, so I guess that's not too bad, all things considered (especially after surviving a tornado strike). I would have hoped for more than 2 years from the X3, however. It is worth noting that my less-expensive Pomcam (reviewed below) is still running after over 4 years of constant use.

Despite its recent problems, the Aiptek X1 provided many years of reliable and quality service. Video it captured has aired on national broadcast television numerous times. But would I buy another Aiptek? It's worth noting that I contacted Aiptek support about the powered shutdown problem on both cameras, but never received a response. That and the fact that the newer X3 failed after 2 years gives me pause about considering another Aiptek model.
Aiptek X3 Car Camera
The X3 is virtually identical to the X1 in terms of operation and video quality. The X3 adds an impact sensor, which I never found the need for. My X3 served as my car's front-facing camera from 2013 until August 2015. It too developed the powered shutdown failure in July of 2015, just like the X1 did. In mid-August, the camera failed completely. It would not power on, neither when connected to the car power or to a computer via USB. I took it apart to see if I could locate a loose wire or connection, but didn't find anything I could hope to service myself. So, the Aiptek X3 was declared dead after 2 years of service.
PRO: Build quality is good.

PRO: Daytime image quality is very good

PRO: The embedded timestamp can be turned off for a clean video image.

PRO: No heat-related shutdown issues, even during extended operation in a parked, hot car.

CON: The video files cannot be read natively by Adobe Premiere Pro, and must be converted/re-encapsulated using VLC.

CON: Night/low light image quality is subpar.

CON: The mount is proprietary.

CON: The camera failed after 2 years of use.

Personal conclusions: See my thoughts on the Aiptek X1 above, as they apply to the X3 as well.
Pomcam (2011 version)
Pomcam is a US seller of dashcams. My original Pomcam, purchased in 2011, is a very early model from the company that loop-records in standard-definition 640x480. It served as my rear-facing camera until 2013, when I moved it to face out of the driver's side. While inferior in resolution and suffering from in-between-file gaps, it has outlived both the Aiptek HD cameras in terms of maintaining all of its functionality (now running for over 4 years).

The Pomcam company has updated their dashcam offering to a 720p version, which I have not tested.
GoPro HERO 3+ (as a dashcam)
A GoPro is not a true dashcam, but is sometimes employed as one on a short-term basis (by storm chasers, for example). A GoPro's sole advantage is that it produces a better video image than most 1080p dashcams, but that is the only area where it excels in this realm.

Being a better camera doesn't mean the GoPro is a good dashcam - and this list of its pros and cons spells it out:
PRO: Excellent picture clarity and dynamic range

PRO: Clean video with no timestamps.

PRO: The Hero 3 and newer models have a loop recording mode to allow it to essentially operate just like a dashcam.

PRO: Newer models (like the HERO4 Black) can record in 4K resolution.

CON: No automatic, hands-free operation. Unlike a true dashcam, a GoPro is not a "set it and forget it" device. You will have to remember to start the recording each time you get into your car.

CON: Expensive compared to most dashcams.

CON: Mounts cost extra.

CON: At 170 degrees (nearly "fisheye"), the stock lens is too wide for optimal dashcam use. You will be recording a lot of your car's dashboard and front pillars, while vehicles outside will appear very small unless they are very close. You won't be able to read license plates on anything but a car in front of you (that you're following too closely). Take a look at this screen capture from a GoPro mounted in my car. It's in the same position in the windshield as my normal dashcam, but the road makes up a very small portion of the recorded view. Sure, the picture looks great - but all of that video data is wasted on the sky and the interior of the car, not where it will be most useful if there is an accident or other highway incident around me.


Click for full size



CON: As a recognizable high-value device, a GoPro in a car window is a greater invitation for "smash and grab" thefts.

CON: The camera gets very hot after long periods of use.

To see still frame comparisons from the GoPro Hero 3+, view the comparison images page.

Personal conclusions: Despite owning a GoPro, I would never consider employing it as a dashcam under any circumstance (aside for the short period of testing I did for this page). Sure, it takes a great picture - but it's just not made for this type of job. My dashcams must be "hands-off" devices that always work whether I'm thinking about them or not, and the GoPro just demands too much attention in this capacity. My GoPro will remain dedicated to other tasks that it is better suited for.
Disclaimer/about this page
This page started as a blog post in 2013, and due to its popularity, grew into its current form. This page and its contents are a personal, independent project not paid for or sponsored by any third party. I will accept demonstration models from dashcam manufacturers in order to write an impartial review. In those cases, the review will state clearly that the unit was sent to me for that purpose. A dashcam being sent to me free of charge will not influence the outcome of the review - that is, I will plainly describe any flaws or glitches I find during normal operation.
All content © Dan Robinson. All usage requires a paid license - please contact Dan for inquiries.

Web Site Design and Internet Marketing by CIS Internet