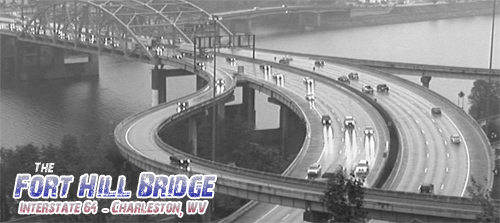 The Fort Hill Bridge - Interstate 64, Charleston, WV
This page lists relevant links as well as all of this blog's posts relating to the Fort Hill Bridge on Interstate 64 (sometimes called the Oakwood Bridge or the Oakwood Road Interchange) in Charleston, West Virginia, including news reports, photos and video of accidents on the bridge as well as updates on the push for safety improvements on this dangerous stretch of highway.

ARTICLE: The case for de-icers on the Fort Hill Bridge

ARTICLE: The Top 5 dangerous bridges around Charleston

Since 2003, I have personally witnessed at least 42 vehicles involved in accidents (as they happened) on the Fort Hill Bridge! Many these accidents were caught on camera. Here are a few links to photos and videos:

October 27, 2003 - 12-car chain-reaction crash during rain
December 14, 2004 - Spinout on ice
January 18, 2006 - Rollover crash during rain
March 21, 2006 - Spinout/crash on ice
January 21, 2007 - Spinouts/crash on ice
March 17, 2007 - Lots of crashes on ice
December 5, 2007 - Spinouts/crashes on ice
February 27, 2007 - Spinout/crash on ice
March 8, 2008 - Lots of crashes on ice

Blog posts (most recent listed first):

Home | Blog Index | Blog Archives | Christianity & Faith Essays

Saturday, March 8, 2008 - 11:53AM
Saturday, March 8 Charleston, WV icy crash/spinout video

ARTICLE: Thanks to the Charleston Daily Mail for their article in today's paper!
PHOTO GALLERY: March 8 snowstorm expedition log/photos
The toll at Oakwood/Fort Hill this morning was nine accidents/spinouts, eight of which are on camera. The culprit was a very slick coating of freezing rain and sleet that was present on the bridge only. I assembled this quick video clip (click to play). Watch the first car for the flash of lightning and low rumble of thunder as the accident happens:
Click to play video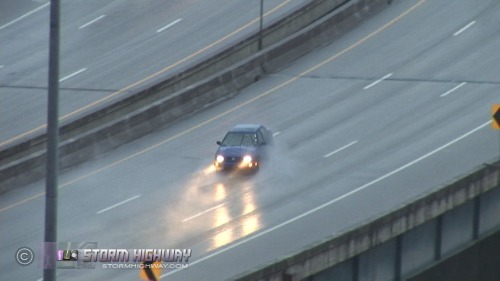 Here is another clip of lightning during this episode of "thundersleet/thunder-freezing-rain" at a temp of 30&degF:
Click to play video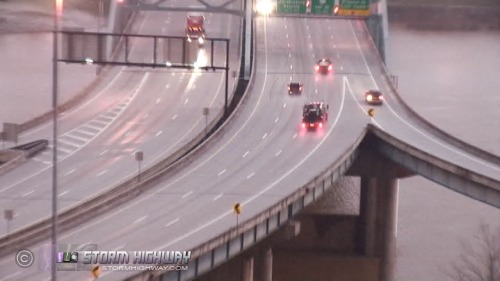 As I finished shooting aftermath b-roll, the freezing rain quickly changed to snow (as you can see in the video). Already close to 3 inches outside now, and the roads are covered. However, after this morning's events I think I am calling it a day. I may venture out later to get some stills.
Quite impressive, but I need to say in Quebec,Canada it was a little bit more "desastrous". We received more than 15 inch with winds going to 50 miles per hours. There was about 10 highways where people left their cars and were saved by the police in snowmobile. Journalist speaks french, but you only need to see to understand ... http://lcn.canoe.ca/cgi-bin/player/video.cgi?file=/lcn/actualite/regional/20080309_drolet.wmv
- Posted by Philipp from Montreal, Canada
Hey Dan, im a storm photographer in canada and i saw your video on the news...some of thoes crashes were crazy!
- Posted by Jayson from Oakville,Ontario,canada
I think the red car above is mine...we survived.
- Posted by Niki
WOW, Hey Dan, I hope no one was killed in the Oakwood Acc. based on your footage, It looked to me that car that hit the silver car had enough room on both sides to have tried to gone around. Congrats on great experienceage of this accident. Rocky
- Posted by Rocky Burrows from oakwood acc.
dan, awesome photography :)
- Posted by Stella from Canada
DAN, I SAW THIS ON THE WEATHER CHANNEL, TOP NOTCH ! I HAVE TO SAY THAT I AGREE WITH ROCKY, LOOKED TO ME LIKE THE SILVER CAR WAS TOAST. PLENTY ROOM ON BOTH SIDES. GUESS YOU JUST HAVE TO BE THERE, NOT !
- Posted by BRAD from CHARLESTON WV
hey dan, just browsing through. i blame the state of wva for these terrible accidents. apparentley this happens at this site/location frequently. seems to me that they would moniter this area more closely and treat the roads at the first sight of temp going below freezing. i have traveled through wv several times and the roads are horrible (pot hole heaven)
- Posted by Teddy Davenport from Ohio
Teddy, You are so right. Not only this accident but most of them that happen in this location could be prevented. I spoke to a wrecker driver that told me when it freezes. they just sit in truck and wait for calls to go clean these crashed cars from the highway. He said its terrible but good business. WVA Highway Patrol should do a better job watching this area. I have tuned into to this web site for years reading and watching the accidents that have taken place in this exact location. some survive and some do not. But all of them go away with large bills to be paid for by them or their families. Come on WVA you can do better than this.....
- Posted by BILL Thaxton from Chas Wva
I think it is pretty bad that you profit from someone else's tragedies with out their permission.
- Posted by Kayla - concern citizen from Cross Lanes
Thanks for the comments everyone! Kayla, I'm sorry you feel that way. My job as a cameraman is to cover all types of severe weather, and this is just one of many different types of weather-related hazards I document. The weather does its thing whether I'm there filming or not. I do get paid for shooting weather video, but it's because it is hard work just like any other job. My hope is that this type of video will help prevent future accidents by reminding people to slow down at this spot. Most of the accidents here are very minor in nature and some don't even result in damage. I've tried to do my part to make this spot safer by contacting the governor, Senator Byrd, Congresswoman Capito, and the highway department to make them aware of it. But as long as this compelling subject is there, it is something that needs to be covered.
- Posted by Dan R. from Charleston, WV
Whoooa, I know that person that was driving the silver car, He is a nice young man. He attends the school where I teach. Bad things happen to good people.
- Posted by Sam I Am from Charleston, WV
Dan, great video. I was in Vegas and saw it on the news. Hopefully people will see it and drive more carefully. The video is lesson in the dangers of ice on roads. Thanks for sharing.
- Posted by Bill Hark
Very well spoken Dan !
- Posted by BILL Thaxton from Chas Wva
I agree w/Kayla, Shame on You ! These people need our prayers and should not be used for any one to make a profit. To profit from ones loss is gambling. Call it what you like its still just wrong.
- Posted by Cindy H. from Elkview, WV
The video should tell people they need to use caution anytime there is bad weather. I saw the footage on the Charlotte news Saturday night. I grew up in Cross Lanes and drove that bridge many times over the years in good and bad weather and it pays to slow down.
- Posted by Lee Ann from Tega Cay, SC
I totally disagree with Cindy and Kayla. As a freelance photographer it is your job to capture news. Motor vehicle accidents kill more people than anything else in this country and the video may help to see what needs to be done to cut down the number of accidents. Doctors profit from death, but that is what they do. Judges and lawyers profit from the crimes of others or we wouldn't even need them. I don't understand these women or their logic. Keep up the good work Dan. It is appreciated by most people, but you are always going to have a few in the crowd that just don't get it.
- Posted by Fred from Charleston
I thought I'd post these two letters I received last year from Senator Byrd (left) and WV Secretary of Transportation Paul Mattox (right) about the Fort Hill/Oakwood Bridge (click each letter to enlarge):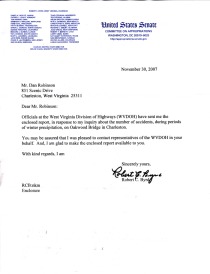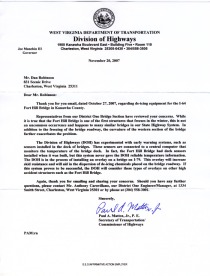 Ever thought of treating the bridges before they become a nightmare?
- Posted by BarbaraCarnes from Carver,Ma
the pics look scarey, i would love to watch the videos but im at school...yeah they dont allow that! but as far as i can see it looks pretty bad, most people say that we have bad weather because we upset god,now if that where true We'd be in Deep Water! u guys have a amazing site! Keep on doin wat ur doin, AND dont give up on GOD!
- Posted by Lacey from Lexington High School
maybe there wouldnt be so many wrecks if people would think to slow down when the roads are wet and temperatures are freezing, and i could almost guarantee that those cell phones had something to do with these.
- Posted by Dr. Acula
All content © Dan Robinson. All usage requires a paid license - please contact Dan for inquiries.

Web Site Design and Internet Marketing by CIS Internet