Home | Blog Index | Blog Archives | Christianity & Faith Essays
Monday, September 6, 2010 - 11:02AM
Second Home: "The Open Road" - Part 5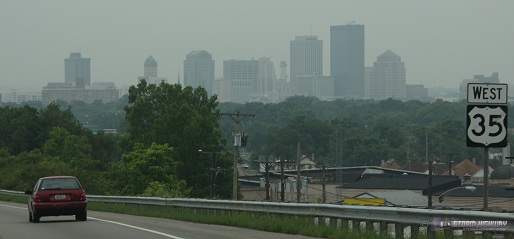 Approaching Dayton, Ohio
This is a resumption of a 3-year-old blog series from back in 2007, a subject that holds an even deeper meaning for me now that these "open roads" have brought me to a new home. Even after moving away from West Virginia, a road trip is still my greatest pasttime. Routes both old and new are always places I look forward to traveling. Thanks to the move to the St. Louis area, I'll have some new routes to add to this series over time. For now, the latest installment covers the one last out-of-state storm photography route from my West Virginia days.
Part 5: US Route 35 from Scott Depot, WV to Dayton, OH
View Larger Map
Although I-64 was by far my most frequently-used westbound highway for storm photography expeditions, there was one other route that, despite my relative infrequency of using it, deserves a feature in this series. From Charleston, US Route 35 is the best way to reach the upper Midwest and Northern Plains regions, including the cities of Chicago, Indianapolis and Des Moines. It was typically rare for a spring Plains observing trip to require this route, but all of my lightning-observing trips to Chicago utilized this length of US 35. In addition to the long trips that carried me past Dayton to Chicago and points north, Route 35 was also a common 'local' observing highway, carrying me to many nighttime lightning outings in southern and central Ohio over the years.
This highway, like many of my longtime routes, has undergone major improvements over the years - namely being upgraded from two to four lanes for all but a short remaining section in West Virginia. Today, Route 35 is interstate-like for most of its length, with only a few isolated places requiring a slowdown from highway speeds.
Some highlights of traveling west on Route 35 from Scott Depot:
Teays Valley/Scott Depot - The recent changes to the US 35 route are most apparent at the highway's southern section in Putnam County, WV. Prior to 2009, starting the journey westward on Route 35 required exiting at the Teays Valley ramp on I-64, then following State Route 34 (pictured at right) to the 35 intersection in Winfield. Traffic was always heavy and slow on this segment, with three traffic lights to get through. Although the true southern terminus of US 35 was at the St. Albans exit near Nitro, the Teays Valley/Rt. 34 connection was a far shorter drive in both time and distance, despite the traffic. If one chose to start at the St. Albans exit, US 35 followed the Kanawha River to Winfield - with a very long speed-restriction zone leading into the town.

A major upgrade of US 35 in West Virginia included a completely new alignment of a 4-lane divided highway that interchanged with I-64 at Scott Depot, about 2 miles east of the Teays Valley exit. This interchange now marks the 'true' start of the journey to Dayton and points west and north from Charleston.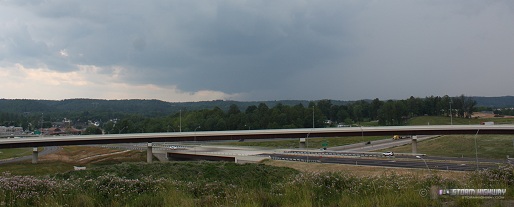 Route 34 crossing - The new highway crosses over the 'old' route between Teays Valley and Winfield.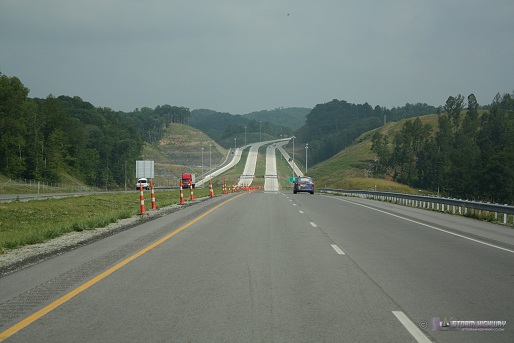 Rural Putnam County - The new 4-lane traverses the rolling hills just west of the Kanawha River (and the old alignment) to the Buffalo Bridge.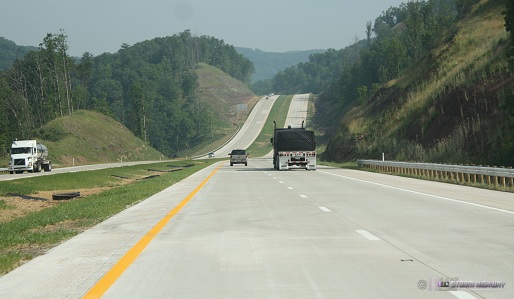 Buffalo Bridge - just north of Frazier's Bottom, the new 4-lane highway ends at the Buffalo Bridge. From here, the route continues on its old alignment along the west side of the Kanawha River to Henderson (Point Pleasant), the only 2-lane section remaining. Construction on the 4-lane upgrade for this segment is still in progress.

2-lane section - The infamous legacy of the old US 35 unfortunately was its narrow 2-lane section from Winfield to Henderson, on which cars shared the road with heavy truck traffic. Accidents were common on this stretch of the route, ultimately providing the main justification for the 4-lane upgrade.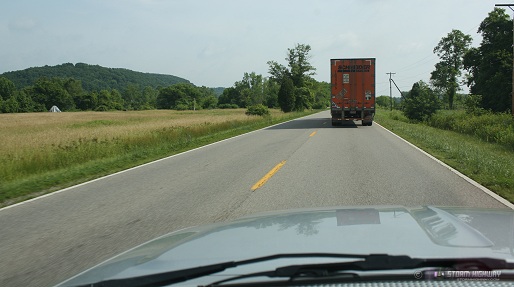 Lower Kanawha River valley - Some of the flattest land you'll find in West Virginia lies along the original 2-lane Route 35 north of Pliny, with scenic farmland and open skies very uncharacteristic of the state.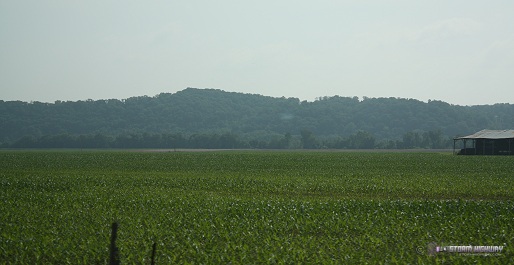 Henderson/Point Pleasant - The road widens back to 4 lanes just prior to crossing the Ohio River bridge, next to the Kanawha/Ohio rivers' confluence at Point Pleasant (of Silver Bridge/Mothman fame).

Southeastern Ohio country - The highway leaves the Ohio River valley quickly, entering a long stretch of rolling hills that include the towns of Jackson and Rio Grande, as well as the original Bob Evans farm.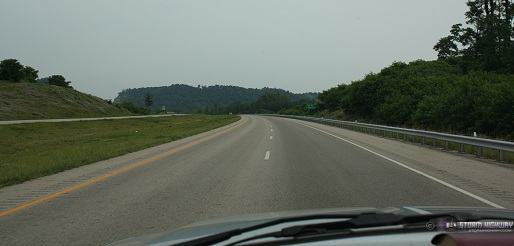 Richmond Dale - Another recently realigned and upgraded stretch of the route begins here. Prior to 2005, the old route narrowed to 2 lanes and followed the CSX railroad tracks about 8 miles to just outside Chillicothe. The old route crossed under the railroad twice, with dangerous sharp curves on either side of both underpasses. The new alignment bypasses the entire 2-lane section to the north, providing a continuous 4-lane highway all the way to Chillicothe and on to Dayton.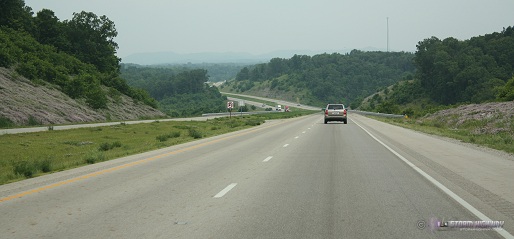 Chillicothe - A good-sized town, one of the largest on the route between Dayton and Charleston and the highway's Scioto River crossing. Chillicothe marks the point at which US 35 leaves the Appalachian foothills and transitions to the flat Midwestern prairie landscape. From here, Columbus is a short distance to the north, Portsmouth is due south.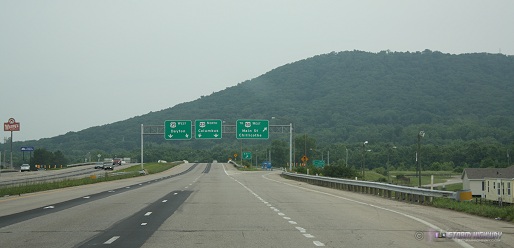 Ohio prairies - Much of Ohio is flat, particularly in its western and northern sections. From Chillicothe westward, terrain along US 35 is indistiguishable from nearby Illinois and Indiana - with cornfields and open skies typical of the American Midwest.
Washington Court House - another good-sized town with another recently-upgraded section that previously required traversing two-lane segments with traffic lights. Everything now is 4-lane highway like the rest of the route in Ohio.

Interstate 71 - I-71 is the only interstate highway encountered on the route between I-64 and the Dayton metro area. I-71 connects Cincinnati and Columbus.

Xenia - Hallowed ground for storm photographers, Xenia was the site of the infamous F5 tornado during the April 3-4, 1974 Super Outbreak. On the west side of Xenia, the highway's limited access status ends for roughly 3 miles, with several traffic lights to get through before resuming non-stop travel.

Dayton metro - US 35 resumes its interstate-grade quality through the Dayton metro area.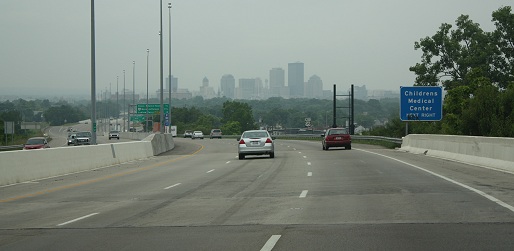 I-75 interchange - The typical trip on US 35 comes to an end at the I-75 interchange in downtown Dayton. From here, a turn north on I-75 to westbound I-70 is the path to continue the trip to Indianapolis, Chicago and points beyond in the upper Midwest and northern Plains.
NEXT ROAD: Stay tuned!
"Open Road" Blog Series: Part 1 - I-64 from West Virginia to Missouri
Part 2 - I-44 from Missouri to Oklahoma
Part 3 - I-79 from West Virginia to Pennsylvania
Part 4 - I-77, I-74, Route 52 and I-40 from Charleston to Raleigh
Part 5 - Route 35 from Teays Valley to Dayton
Part 6 - I-70 from St. Louis to Kansas City (still to come)
Part 7 - I-55 from St. Louis to Chicago (still to come)
Part 8 - I-55 from St. Louis to Sikeston (still to come)
This web site is made possible by support from CIS Internet.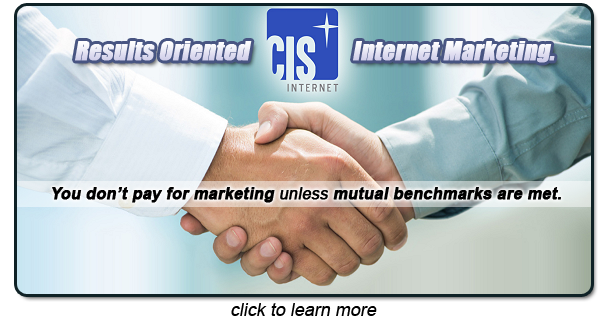 GO: Home | Storm Expeditions | Photography | Extreme Weather Library | Stock Footage | Blog
Featured Weather Library Article:
All content © Dan Robinson. All usage requires a paid license - please contact Dan for inquiries.

Web Site Design and Internet Marketing by CIS Internet