Large, violent and long-lived EF4 tornado near Bennington, KS: May 28, 2013
ABOVE: The Bennington, Kansas tornado of May 28, 2013
HD EXPEDITION VIDEO: Bennington, Kansas tornado intercept and close encounter: Watch Video
EXPEDITION VIDEO: Side dashcam timelapse of Bennington tornado: Watch Video
HD EXPEDITION VIDEO: Clear sound of the large and roaring Bennington tornado: Watch Video
Click any thumbnail on this page to view a larger version.
BENNINGTON, KS - This intercept and experience was a career best - a large, high-contrast, nearly stationary tornado that lasted for roughly 45 minutes, all within 1.5 miles of me for its entire life cycle. This tornado gave me plenty of time to get a large number of both photos and video of many of its various stages. The following is a log of the day's expedition. (Full screen views of each image are available by clicking the thumbnail).
GPS LOG: Click to view the GPS track for this expedition
This day was a testament to the extreme uncertainties and roller coasters of expectation in storm photography. On Tuesday, May 28, I woke up at my hotel in Concordia, Kansas expecting to photograph storms on my way home and be in my bed in the St. Louis metro by midnight. I was not at all impressed with the setup for tornadoes that day after I did my morning data check. Upper-level support was not very strong, and there was no clear focus apparent anywhere. The following days were also looking iffy, with veered surface winds and upper support lagging. A better area of upper-level flow would be present in northern Missouri that afternoon, so I chose to start heading in that direction. It was on my way home, and would be a convenient chase if a supercell got going there. However, by midday I began seeing some potential along a surface boundary in northeastern Kansas as well as along a quasi-dryline back near Great Bend. The famous words of Tim Marshall echoed in my head: "When it's May, you chase." I stopped at Junction City to wait and watch the situation evolve.
With each hour, it became more apparent that a boundary draped across the northern portion of Kansas would be a viable area for tornadoes. Clearer skies than expected resulted in strong instability. Midlevel winds, though not very strong, were sufficient. The intersection of the quasi-dryline and the boundary near Salina emerged as an obvious target, so I began slowly making my way back to the west along Highway 18 as cumulus began developing across the entire area. About this time, a strong supercell developed just to the northeast and produced a wedge tornado about 80 miles away from where I was. I was briefly tempted to go after it, but due to its distance away, I chose to stay put.
Eventually, towering cumulus began going up at the boundary intersection near Salina, and soon we had a storm. I initially positioned several miles northeast of Bennington, expecting the storm to move northeast and mature as it arrived at my location. Here, the mammatus display was very well defined: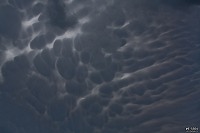 However, it soon became apparent that the storm was slowing and turning right much earlier, so I quickly headed back southeast to Bennington to make the final intercept. An ominous and obviously soon-to-be-tornadic base was visible as I traveled west on Highway 18.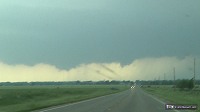 As I closed in, a funnel descended and a weak tornado developed (ground circulation reported by those who were closer), not fully condensed.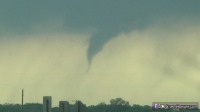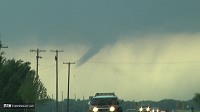 The storm was just getting started, and a large wall cloud pointed to something big about to happen. I was not satisfied with my several-miles-distant location, so I drove closer, eventually crossing Highway 81 and turning north on N 150th Road within 1.5 miles of the wall cloud. I stopped on a hill with a good view and got set up. The wall cloud was spinning rapidly, and tornadogenesis looked imminent in the rotating rain curtans at the surface.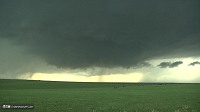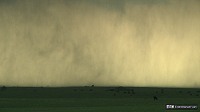 As if right on cue, the tornado developed quickly.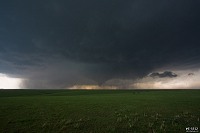 For the next 15 minutes, I did not move as the tornado grew and put on quite a show about a mile to the west. It grew into a large, violent cone, then barrel, then wedge - with horizontal vortices, multiple suction vortices and debris. I could hear the roar of the tornado as a distant jet engine sound. It appeared the tornado was moving toward me, as it was not moving left or right. However, it was only doing so very slowly, so I did not feel any urgency to reposition.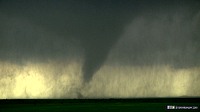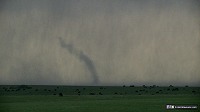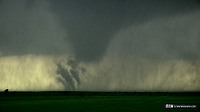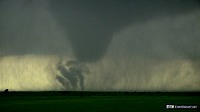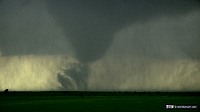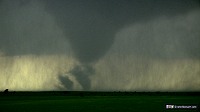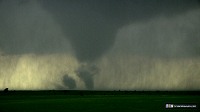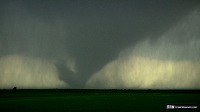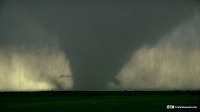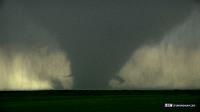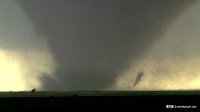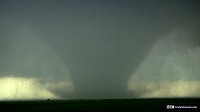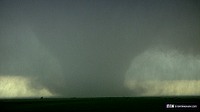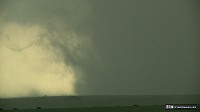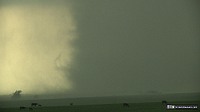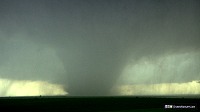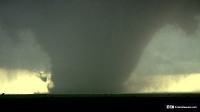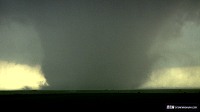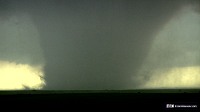 Stills taken during this time, with either the Canon 50mm 1.8 or the Canon 10-22mm lenses.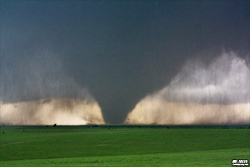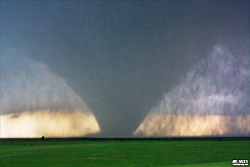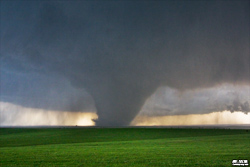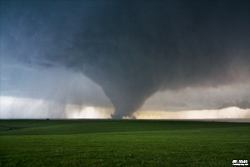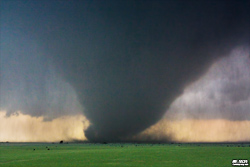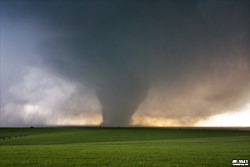 After this extended period of good visibility, the tornado then quickly wrapped in rain.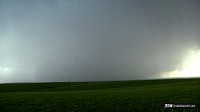 Southeasterly winds began picking up suddenly, and I assumed a satellite tornado was about to develop to my immediate northwest. However, about a minute later, the rain began clearing to reveal the tornado just west of the road by roughly 1/2 mile. At this point, I jumped in the car and began heading north. The road made a sharp turn to the west, and I now realized the tornado was making a gradual left turn, literally following me as I drove north, then west.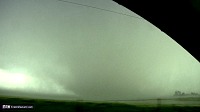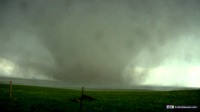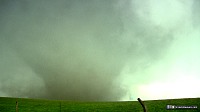 The tornado was thankfully still moving very slowly, so once I got a safe distance west of it (roughly 1/4 mile) I stopped to watch and get videos and still images. This was an incredible experience being this close to such a large and powerful tornado. The following are still frames from the video camera, zoomed all the way out as wide as it could go: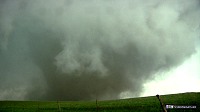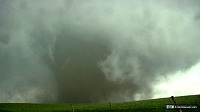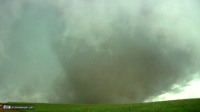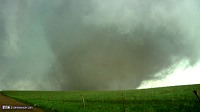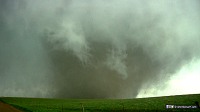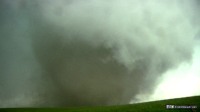 The following images are the stills captured during this time. These are all at the 10mm full wide end of the Canon 10-22mm lens: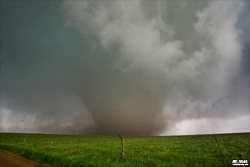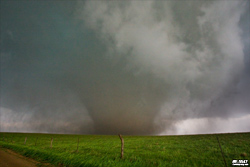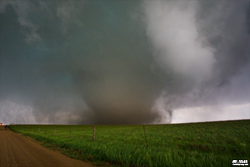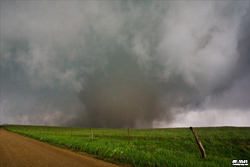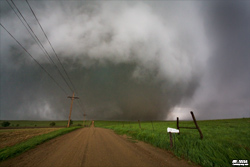 I had time to snap a quick 2-frame panorama of the tornado, collar cloud and vault region, again using the 10mm wide end of the Canon 10-22 lens: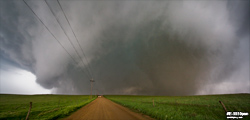 As the tornado looked like it was making a stronger push toward me while getting increasingly wrapped in rain, I bailed west to Highway 106, then returned south to Highway 18 eastbound. The tornado, now a wedge, was still partially visible in the rain to my north: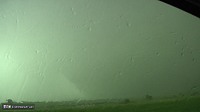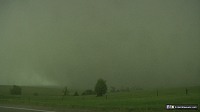 At this point, given the tornado's erratic motion, large size and being difficult to see in the rain, I moved back to the east of Highway 81 on 18 to keep a safe distance. The storm structure at this stage was dramatic: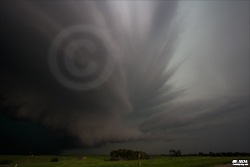 I hoped to catch a view of the tornado again, but the rain never cleared out. The storm also appeared to be lining out at this stage, so I ended my expedition and headed to Salina to get a hotel room. My last shot of the day was these sunset rays over downtown Salina: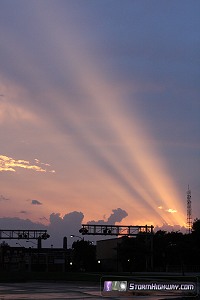 Other observer accounts from this event:
NEXT PLAINS EVENT: Oklahoma hail/lightning, May 29 >
Another great job Dan! Looks like EF-4 tornado. I hope you catch more tornadoes today, and hopefully nobody get hurt. Good luck and be safe!
- Posted by Luka from Arizona
PLEASE BE CAREFUL!!! Did you get your car fixed yet? I couldn't believe the damage especially to the back window. How do you insure that?
- Posted by Linda Ainsworth from Juniper Hills, CA
CONGRATULATIONS!! I agree, these are the best photos I have ever seen on this site. The 2nd photo looks like a bomb. The last one truly depicts everything about the tornado, i.e. size, sheets of rain/hail. I live in Calif. and don't have a clue what these Tornadoes are like. We could sure use some of that rain though. Love the photos. Again, be careful!:.)
- Posted by Linda Ainsworth from Juniper Hills, CA
Nice photos of that very large tornado. Thanks for posting them. God Bless and stay safe.
- Posted by Wade Brooks from Canada
All content © Dan Robinson. All usage requires a paid license - please contact Dan for inquiries.

Web Site Design and Internet Marketing by CIS Internet